The goal of the admissions process is to ensure that a child's enrollment in the lab school will meet the needs of the child, the family and the ECL program. The following information will help you determine whether to submit an application at this time:
The Early Childhood Laboratory (ECL) is funded as a teaching/research/demonstration program for UC Davis students and faculty. To fulfill its mission as a laboratory program, each class must provide a population that has a balanced sex ratio, even distribution of ages, and diversity of family, ethnic, and socioeconomic backgrounds.
Our acceptance of this application does not imply eventual placement for the child. For most age groups, there is a high ratio of child applicants to the number of places available. Because of our enrollment criteria, our "applicant pool" IS NOT a numbered waiting list. The date of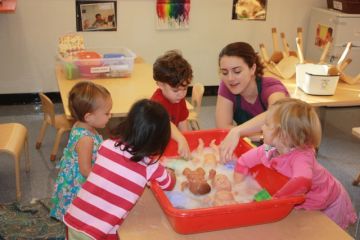 application is considered only if several children in the pool could equally meet the Laboratory's needs. Whenever possible, priority is given to applicants who are siblings of children currently enrolled; however, acceptance is not guaranteed.
Enrolled families must plan to have their child attend on every day the program is in session (illness excepted). Each UC Davis student enrolled in Human Development coursework here is assigned to work with a small group of children. Whenever children are absent, the student's educational program is disrupted. Families who plan for frequent or extended travel during the school year are not a good fit for this program.
A new application will be required for each subsequent year. 
The first round of admissions decisions are made in March and April, but openings may occur when families move or parents change their plans. For this reason, we accept applications for the upcoming school year through September. Children who do not receive a slot in April are placed on an active waiting list. All acceptance decisions are made by the ECL Director.
Families who wish their child to remain in the applicant pool for the 2019-2020 year will be reminded in January to submit a new application to ensure current active interest and to update developmental information, but will not have to pay another application fee.
Once accepted, a non-refundable $100 deposit is required and an enrollment contract and additional completed paperwork must be submitted before enrollment is final.
Tuition and Fees
$500 per quarter for children of currently registered UC Davis students
$700 per quarter for children from non-student families
$45 once a year administrative fee for each child attached to fall quarter tuition
Families are billed for tuition before the beginning of each ten-week quarter, and payment is due by the first day of school each quarter. The $100 enrollment deposit will be credited toward child's next spring quarter tuition or the final bill, whichever comes first.