COVID-19 Update: 2021-2022 Academic Year
HDE 140L: Laboratory in Early Childhood       
At this time, HDE 140L will be offered in-person at the Early Childhood Laboratory (ECL), 238 1st Street, all three quarters: fall, winter and spring. If deemed necessary due to the progression of the pandemic, enrolled students will switch to remote learning.
     Please note, all students choosing to participate in HDE 140L must provide proof of COVID-19 vaccination* along with all other health related prerequisites.
     The ECL follows a strict health policy** in alignment with the campus guidelines. All participants, including staff, students, and families, complete the daily symptom survey and receive a temperature check before admittance into program.
HDE 140L:

Laboratory in Early Childhood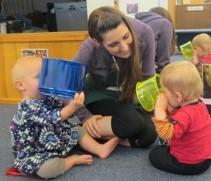 This course satisfies the HDE practicum requirement. It is offered all three quarters: fall, winter and spring. HDE 140L is a 4.0 unit letter-graded course. 
Prerequisites:
HDE 100A  or consent of instructor;
       and documentation of:
Measles vaccination or immunity titer;

Pertussis (whooping cough) vaccination;

Negative Tuberculosis test less than 12 months old at first day of classes or clear chest x-ray less than 4 years old;

Current Flu season vaccination (August 31 – December 31). May be waived with letter from doctor with medical justification;

Covid-19 vaccination(s)*
**While the ECL program model is designed to be as low-risk as possible for in-person, practicum work with young children, enrolled students must be aware the learning experience cannot be deemed completely risk-free. Students who do not receive the vaccination for medical or religious reasons, and/or those in high-risk categories are encouraged to enroll in another course to satisfy another area of the major. The HDE Program Director and Advising Office will soon announce possible alternatives for 2021-22 graduating students.
Learn how to request placement

in HDE 140L practicum at: humanecology.ucdavis.edu/practicum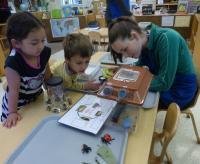 Course Summary
This practicum surveys theory, research, and practice-based knowledge of child development in an applied early childhood setting. Students will implement developmental principles as they interact with young children under the guidance of experts in the field of early care and learning. Course topics include: observation as a tool for research and reflective practice; the social context of language and cognitive development; development of self, relationships, and social-emotional competence; and diversity and inclusion in early learning settings. Emphasis will be placed on observation and hands-on learning. Readings will be utilized to further knowledge of child development, promote reflection and application, and prompt dynamic discussion during weekly meetings. Written assignments are intended to explore applied research skills, and develop academic and professional writing.
Course Format
This course mixes direct instruction, collaborative learning, and individual exploration.  Students will also be expected to engage in reflective practice, the ability to reflect on one's actions in order to engage in a process of continuous learning.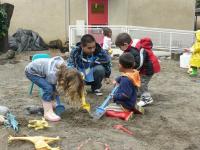 Weekly Discussion
Attendance is required at Weekly Discussion. Weekly Discussion is a forum for communication among students, course instructors, and the Early Childhood Laboratory (ECL), UC Davis staff. Topics pertinent to the growth and well-being of the children in your care will be addressed via lecture, videos, group discussion, and class experiences. This is an opportunity to synthesize research, theory, and practice by raising questions and voicing concerns, and by examining your own personal biases and beliefs about young children. 
      Weekly Discussion Sections:
001 Infant/Toddler Program Thurs  1:10 - 3:00 PM

002 Preschool Program Thurs  4:10 - 6:00 PM

003 Preschool Program Thurs  4:10 - 6:00 PM
Lab and Lab Discussion
Students work two days per week in a classroom at the ECL.
     Lab Assignments:
Infant/Toddler Program M/W 8:30 AM-Noon

Infant/Toddler Program T/R 8:30 AM-Noon

Preschool Program M/W 8:15-11:45 AM

Preschool Program T/R 8:15-11:45 AM

Preschool Program M/W 12:30-4:00 PM

Preschool Program T/R 12:30-4:00 PM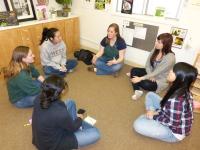 The first and last 15 minutes of each lab workday are devoted to a discussion of the daily events and observations. This Lab Discussion is an opportunity to ask questions and to share frustrations and successes. Students will be asked to apply specific content from Weekly Discussion and assigned readings to their practice. Each student is expected to take part in this discussion and to use it as an opportunity to practice group participation skills.
Reliable attendance is expected for this class. Excused absences may be made up with staff approval and, as required with illness, with a note from the UC Davis Student Health and Wellness Center or your personal doctor confirming your illness.