>Conducting Research and Observations                     >Professional Development/TK Workshops
Conducting Research and Observations at CCFS
The CCFS is part of the national system of Experiment Stations for the United States Department of Agriculture. As a component of the Experiment Station, the CCFS focuses on issues of human health and well-being, and quality of life as they relate to the development of children and their families.
The primary directives of the CCFS are:
To design, implement, evaluate, and disseminate experimental infant and child programs based on child development theories and research. These programs are administered by the Early Childhood Laboratory (ECL).
To provide an in vivo demonstration of developmental theory and principles of applied research for UC Davis undergraduate and graduate students in child and human development, and from related disciplines.
To generate and support the research of graduate students and faculty on typical and atypical processes in child development.
The CCFS provides resources and expertise to the region and state in the form of tours, seminars, observations, and expert participation in community and state program development, policy-making and workforce training.
As one component of CCFS, the ECL provides a diverse population of children and families with which research may be conducted.
Specifically the ECL and CCFS staff may be engaged to:
Consult on research project design as it relates to developmentally appropriate practice and adult-child interaction strategies

Carry out pilot experiments

Train research assistants in research procedures and protocols

Implement research projects on-site

Recruit participation in on-going research projects
The ECL program also provides opportunities for natural observation for undergraduate and graduate students, as well as visiting scholars.
While priority is given to Human Ecology faculty and graduate students, we welcome unsolicited proposals that align with the lab school directives from researchers with other campus affiliations. Researchers with approved projects who are committed to participating in lab school activities (e.g., engaging CCFS staff as project partners, publishing in ECL newsletters, and/or presenting to CCFS staff) will receive preference.
Researchers interested in conducting projects at the CCFS must complete and submit an application. Consistent with other service providers across campus, fees for use of the CCFS site and/or resources may apply (see below). Early care and learning programs are historically underfunded and under-resourced; these fees help maintain site infrastructure and programs operations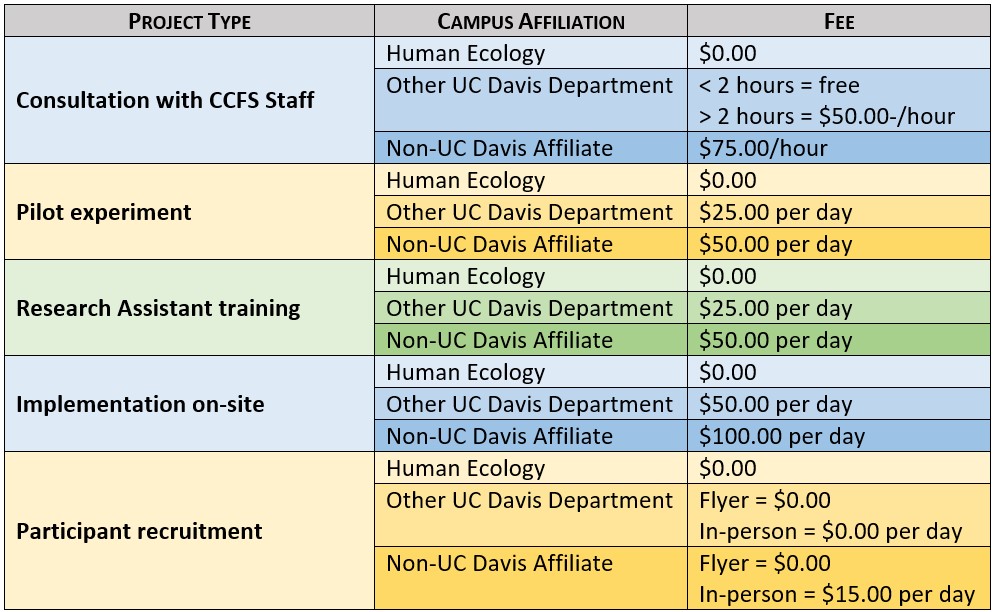 Approval Process
Review of document—

Participation in IRB Review and receipt of approval (if not already complete)

Submission of 

Application

to ECL Director/CCFS Academic Coordinator for initial review and assessment of feasibility

Required documents:

UC Davis Institutional Review Board (IRB) approval Form, approved Description of Study, and approved recruitment materials and consent form

Note: If a letter of the CCFS' support is required to obtain IRB approval, this may be discussed with the CCFS Academic Coordinator. Once IRB approval is received, the full application will need to be approved by the CCFS Academic Coordinator and Department Advisory Committee (DAC)* prior to the research being conducted. Yearly IRB renewals and updates on IRB modifications that directly impact CCFS participants are to be submitted to the CCFS Academic Coordinator and DAC for as long as the research continues at the CCFS.

Summary of the research project to be posted to the CCFS website

If deemed appropriate (e.g., in alignment with CCFS mission, feasible with site resources and schedule of on-going projects, etc.), submitted to DAC sub-committee for CCFS Research for final approval

Provision of acceptance/rejection notice within three weeks of submission

Distribution of CCFS Research Service Agreement

Agreement to Follow Guidelines

Timeline to Implementation

Fee Schedule/Billing Information
*At least one faculty member from each program within the department is represented in the ECL Department Advisory Committee (DAC). The purpose of this work group is to assist the ECL in continually refining its mission and programming, and in strengthening its role in advancing excellence in the fields of child development and early care and learning. Membership includes the aforementioned faculty, one HDE graduate student, and the Department of Human Ecology Internship Coordinator.
Outreach and Services
Professional Development Series
Transitional Kindergarten: Building a Strong Foundation for School Success
Trainings listed below are facilitated by specialists in child development and early education to support the design, implementation, and evaluation of Transitional Kindergarten Programs. They are intended to support the planning process for the TK expansion, as well as inform and strengthen the professional work of classroom staff. While trainings may be offered at local organizations, all workshops ideally would take place at the Center for Child and Family Studies. This would allow participants to tour, explore, interact with, and gather inspiration from the Early Childhood Lab School demonstration classroom. To apply, please complete the following Application
Core Components of Quality Early Learning Programming in TK
This half-day training is designed to set the stage for program success and offer evidence-based guidance for initial Transitional Kindergarten program planning and decision making. Attendees should include district and school administrators, as well as select leaders from current teaching staff with representation from prekindergarten, transitional kindergarten, and kindergarten classrooms.
TK Teaching Staff Series
This four-part series (each workshop four hours in length) offers a deep exploration of core components of quality early learning programming. Emphasis in placed on applying evidence-based strategies to Transitional Kindergarten daily programming (see descriptions on following page). Attendees should include all teaching staff working in early education classrooms, including prekindergarten, transitional kindergarten, and kindergarten.
1. Foundational Adult-Child Interaction Skills and Social Communication • This training focuses on basic interactions skills that are used on a routine basis to build relationships, support learning, facilitate peer interactions, and encourage problem-solving.  Theory of social communication is also explored as a tool for practice—including the elements of effective communication, building a language-rich environment, and supporting multi-language learners.
2. Environments, Routines, and Integrated Learning • This training introduces the core components of high-quality early learning settings—including utilizing the physical space to promote community and collaborative learning; establishing predictable daily routines that foster self-regulation and social learning; and planning curriculum that incorporates both child-initiated and teacher-initiated learning.
3. Observation and Documentation of Early Learning • This training introduces observation as the foundation for assessing and evaluating child learning. Strategies for observing in and out of the action, methods of documenting learning, and integrating collected data into formal assessment tools like the Desired Results Developmental Profile. Emphasis will be placed on building assessment systems that inform instruction, support family engagement, and strengthen program implementation.
4. The Home-School Connection in the TK Classroom •

This training expands the classroom community to include parents and family caregivers in meaningful ways and enlist their active engagement as stakeholders in their child's development and learning.
On-Site TK Consultation
•To build capacity, and support and sustain evidence-based strategies, on-site consultation may be made available as requested.
Additional Information:
Scheduling
Please complete an Application to schedule professional development workshops. Allow four weeks for the processing of business contracts.
Fees
$50.00 per person (per 4 hour workshop), with a minimum of 10 participants required. Programs with less than 10 participants may seek partnership with other schools to fill enrollment. Alternatively, you may pay the minimum fee of $500.00.

Consultation

$75.00 per hour.
Enrollment:
All administrators and/or instructional leads are responsible for managing enrollment, communicating about scheduled events, and facilitating transportation and parking to the workshop location.
Tags