Respect
Respect is the fundamental value that guides our program's philosophy. We believe that all children at every age are competent learners who deserve our respect. As we care for and interact with children it is essential to be attuned to their signals and to respond to them in respectful, relevant ways.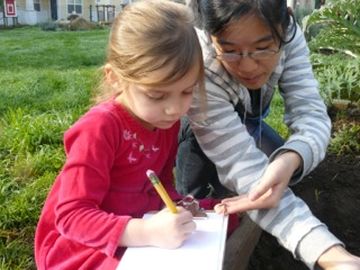 We believe that children learn best about the world by actively interacting, exploring and experimenting with its elements: touching, tasting, watching, listening, smelling, investigating and testing. As adult caregivers, we are responsible for providing a safe, stimulating physical environment, as well as a nurturing, reflective social environment. As children pursue their own interests here, they develop a sense of competence and trust that impels them to further exploration and a deepening sense of personal effectiveness. A supportive environment that encourages curiosity and exploration thus helps children build the foundation for later learning and self-reliance.
We encourage and value family involvement in order to build a partnership of caregiving that supports children's growth and in all developmental domains. Respectful communication between staff, parents, students and children strengthens all of our partnerships. The environment we strive to create is reflective and models a supportive community where all of us can learn and grow.
Program Goals
Each age group program is designed and staffed to facilitate excellent experiences for children. Teachers work within a flexible curriculum framework designed to meet the needs and interests of the group and of individual children. Specific ECL goals are:
To provide an appropriately stimulating, enriched and safe environment in which children can play and learn;
To facilitate children's individual choice of activities and friendships and provide adult support to help them responsibly carry out their plans;
To help children learn a variety of problem-solving skills and to increase their mastery of existing skills;
To provide an environment where children and adults can interact with honesty, compassion, interest and affection;
To be aware of each child's social, emotional, physical, linguistic and intellectual development and to provide experiences that will be interesting, educational and challenging in all of these developmental domains;
To provide support for many child-initiated experiences that will foster each child's growing abilities and positive dispositions toward learning;
To incorporate carefully selected teacher-initiated activities that expose children to new information, ideas and opportunities;
To help each child achieve his or her potential, have fun, and participate according to his/her interests, abilities and preferences.